The internet of things (IoT) will encompass all aspects of our everyday lives as it enables literally billions of things to be connected anytime, anywhere, with anything and anyone. Consumer use of smart devices plays an important application in IoT. A smart device is an electronic device with ubiquitous computing capability, generally connected to other devices or networks via different wireless protocols. Several notable types of smart devices are phones, tablets, watches, smart bands, healthcare devices, and home security devices.
Interconnection of Smart Devices
Most smart devices use Bluetooth as the wireless protocol to interconnect with other devices or networks. As one of the major technologies for personal area network (PAN), Bluetooth has evolved in the past years and the latest Bluetooth low-energy technology enables long operational life with minimal power consumption for smart devices. Table 1 lists the key attributes of Bluetooth.
Table 1
Bluetooth

(basic rate)

Bluetooth

(enhanced data rate)

Bluetooth

(low energy)

Frequency range

2400 to 2483.5 MHz

2400 to 2483.5 MHz

2400 to 2483.5 MHz

Modulation

GFSK

Header: GFSK

Data: n/4-DQPSK,

8DPSK

GFSK

Frequency hopping

FHSS with 1600 hops/s

(in normal operation)

FHSS with 1600 hops/s

(in normal operation)

FHSS with 1600 hops/s

(in normal operation)

Duplex method

TDD

TDD

TDD

Channel spacing

1 MHz

1 MHz

2 MHz

Data rate

1 Mbps

2 to 3 Mbps

1 Mbps
Testing Bluetooth on Smart Devices
Most manufacturers develop smart devices with Bluetooth-certified chipsets and modules. Although the chipset vendors and module vendors provide reference designs that guarantee the RF performance, smart device manufacturers usually cannot leverage 100 percent of the reference design due to various requirements of the smart devices. For example, the small footprint of a device may require a different antenna design, or the design of a printed circuit board may cause the Bluetooth circuit to get crosstalk from the device's other digital and RF circuits. Therefore, smart device manufacturers need to test the Bluetooth RF performance in both R&D and manufacturing phases, in order to make sure their products meet the Bluetooth RF specifications. For companies with the need for high test throughput and richer test functions, one test solution is the Keysight Technologies, Inc. E6640A EXM wireless test set and X-Series signal analyzer and generators. Table 2 lists typical Bluetooth transmitter test items that can be completed with the Keysight Technologies, Inc. N9000A CXA signal analyzer and N9081A Bluetooth measurement application.
A Cost-effective Bluetooth Test Solution
Many of the smart device manufacturers are small to medium size, and some are even start-ups. Since Bluetooth is a mature technology, these types of manufacturers often elect to use a general-purpose test solution rather than a Bluetooth-specific test set. One cost-effective Bluetooth test solution, shown in Figure 1, uses the Keysight Technologies, Inc N9320B and N9322C basic spectrum analyzers (BSAs).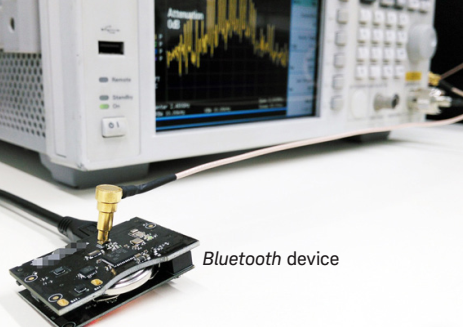 To use this test solution, the device under test (DUT) is set to test mode to disable frequency hopping. Keysight recommends measuring the three advertising channels shown in Table 2.
Table 2
RF center frequency

Channel type

Data channel index

Advertising channel
index

2402 MHz

Advertising channel

37

2404 MHz

Data channel

0

2406 MHz

Data channel

1

–

Data channel

–

2424 MHz

Data channel

10

2426 MHz

Advertising channel

38

2428 MHz

Data channel

11

2430 MHz

Data channel

12

–

Data channel

–

2478 MHz

Data channel

36

2480 MHz

Advertising channel

39

When the DUT transmits in the advertising channels in Table 3, the Keysight BSA can measure frequency and power of the transmitted signals. The following screenshots show some measurement results on a smart band: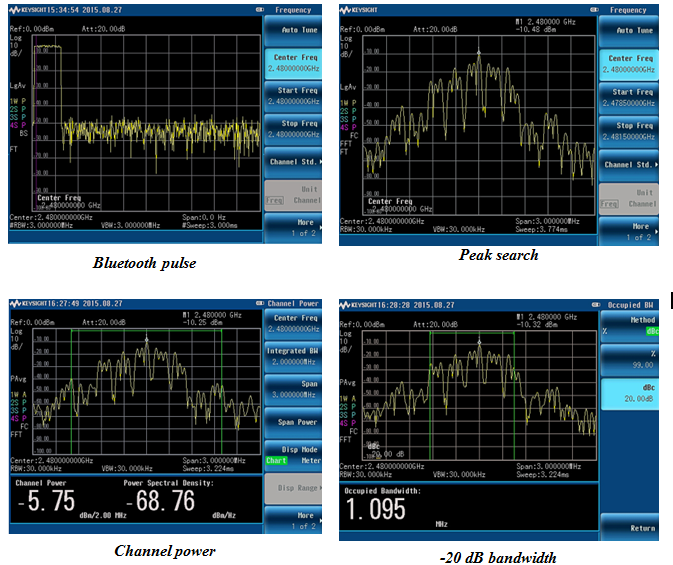 Pro and Cons of the Cost-Effective Bluetooth Test Solution
There are pros and cons for this cost-effective test solution. When selecting a test solution, these attributes should be assessed along with the alternative test techniques. The small to medium size companies may find this cost-effective solution appealing for the following reasons:
1. Bluetooth is a mature technology so complete Bluetooth RF test may not be necessary, especially for production test.
2. The N9320B/N9322C basic spectrum analyzers costs only a fraction of a
Bluetooth test set.
3. In test mode, Bluetooth devices do not hop over frequencies, so it is easier to make stable power measurement.
4. This solution measures only three advertising channels to save test time.
The major limitations of this cost-effective solution are:
1. It cannot measure modulation characteristics.
2. The N9320B/N9322C do not provide an automatic Bluetooth test application.
An external computer and custom-developed software are required for an automated test solution. However, since the N9320B and N9322C support USB, LAN, and GPIB ports, as well as SCPI programming, it is possible for customers to develop their own test software.
More Information About the N9320B/N9322C BSA
These basic spectrum analyzers focus on general-purpose spectrum analysis, addressing primary frequency domain measurement needs. They are Ideal for consumer electronics, R&D, manufacturing, bench repair, universities and polytechnic education, and general purpose spectrum monitoring.
They cover frequencies up to 7 GHz, offer the one-button power measurement, and provide analog/digital demodulation and SCPI command compatibility with the Keysight ESA Series spectrum analyzers.
Built to perform on the test bench and priced to compete in the market place, the BSAs provide reliable RF performance and a robust feature set at an affordable price.
Key specification/function

N9320B

N9322C

Frequency

9 kHz to 3 GHz

9 kHz to 7 GHz

DANL at 1 GHz w/min. RBW and preamp

–145 dBm

–152 dBm

Phase noise at 1 GHz, 10 kHz offset

–90 dBc/Hz

–90 dBc/Hz

3rd order intercept (TOI) at 1 GHz

+13 dBm

+15 dBm

AM/FM modulation analysis

Yes

Yes

ASK/FSK modulation analysis

Yes

Yes

Spectrogram

No

Yes

Stimulus/response

2-port transmission test

2-port transmission test
1-port reflection measurement

Channel scanner

No

Yes
Source: RSI