The Antenna Radiation Measurement System (RMS) is a compact test system that performs 3-axis radiation pattern measurement in non-anechoic spaces. With a frequency range of 700MHz to 4GHz it is well suited for characterization and measurement of Antenna Radiation Patterns, Antenna Gain, ERP, TRP, Field Strength.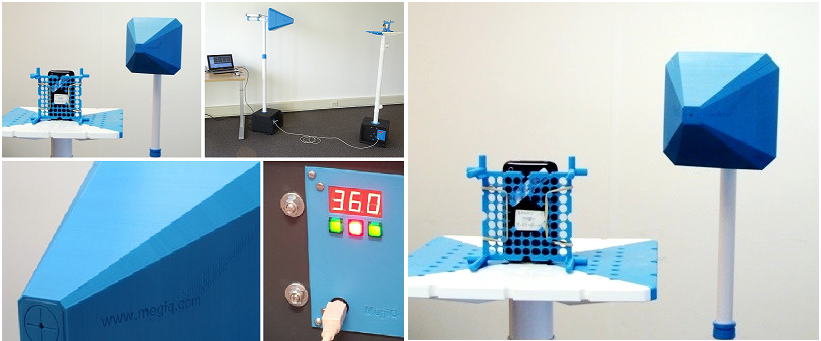 Extensive evaluation has shown that – with proper setup - the accuracy of the RMS is similar to that of anechoic test labs.
Characterize wireless devices of today, like IOT devices, routers, phones, domotica products, electronic gadgets, tablets, laptops, RF-modules etc. The RMS has proven to be a tremendous asset during the development and evaluation of wireless devices.

Features:
Measurement of RF device Constant Carrier radiation patterns.
System frequency range 700 to 4000 MHz.
Measuring distance 0.8 to 3 meter.
Simultaneous Horizontal and Vertical polarization measurement.
Simultaneous measurement of harmonic radiation.
3-axis measurement (1 turn per axis)
Minimum step size 2 degrees
Narrow antenna beam-width for nonanechoic environments.
Narrow receiver bandwidth for nonshielded environments.
Plots per axis and semi 3D.
Plots of radiated power ERP (dBm), Antenna Gain (dBi), Field Strength (dBuV/m).
Calculation of TRP, Minimum, Maximum and Average radiation.
Integrated PC software suite supports measurement setup, rotation control,
graphing, data storage and report generation.
Optional Generator output for standalone antenna measurement.
Optional Heavy Duty turntable (30kg).
System included:
Measurement System:

Turn Table

Antenna height 100cm to 170cm
Dual Polarization Antenna
Dual channel measuring receiver
Generator output (option)
Rotation controller unit
Power supply
USB connection for PC control
Mains connection

Height 70cm and 130cm
Stepper motor drive
30 seconds per rotation
Smooth acceleration
Table size 28 x 28cm
Max EUT weight: 7.5kg
Heavy Duty table: 100 x 50cm, 30kg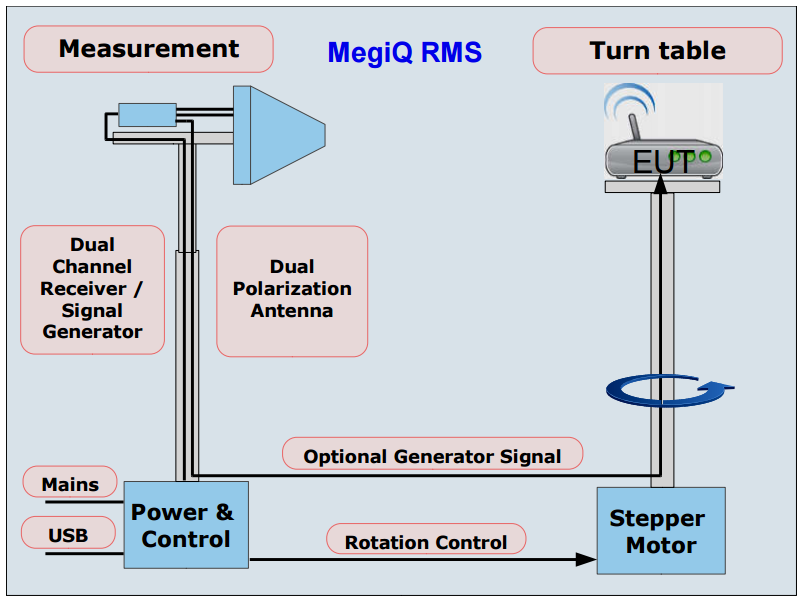 Source: RSI