Systems equipped with modern weapons increasingly require maintenance inspection must take place on a regular basis, to ensure the accuracy and safety during use. For the artillery system, the regular inspection and maintenance of the barrel is always a very important task requiring high precision. To meet this demand, the world now has a number of manufacturers have been developing and testing systems to serve barrel test applications measuring the types of barrel from inside diameter measuring distortion, curvature, applications to measure the parameters of helical grooves, or defects in the barrel.
C. Calibration:
The first calibration is done by the manufacture. All parts of the system contain special features for self-diagnostic. However, the operator should do a periodic calibration once a year or more often if it is required. The system includes special calibration block, which allows checking instrument's accuracy anytime and fixing calibration table if it is necessary. The calibration takes 10-15 minutes. All calibration processes are automatic.

The calibration block contains a caliber (see pictures), which is used to correlate the readings of the system with factory values in order to check the system's accuracy. The inner surface of the caliber emulates a plenty of pipes with different diameters in all working range. In order to calibrate, the probe should be inserted into the calibration block as it is showed on the picture below. The calibration starts automatically after pushing "Calibration" button.
D. Software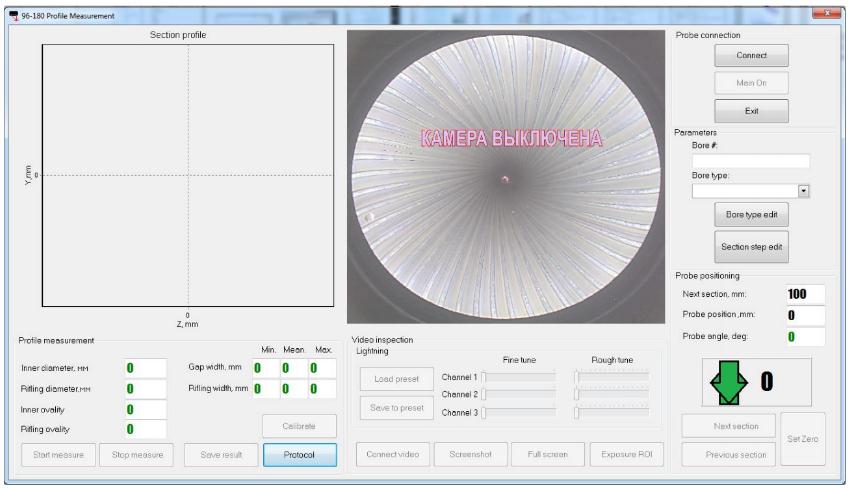 The main form
AREA AND FUNCTION
| | | |
| --- | --- | --- |
| AREA | FIELDS/BUTTONS | FUNCTION |
| SECTION PROFILE | | The area for showing the profile of a section |
| PROFILE MEASUREMENT | | The area for showing the parameters of a section |
| Fields: | Inner diameter | Inner diameter The inner diameter in current |
| | Rifling diameter | The rifling diameter in current section |
| | Inner ovality | The inner ovality in current section |
| | Rifling ovality | The rifling ovality in current section |
| | Gap width | The gap width in current section |
| | Rifling width | The rifling width in current section |
| Buttons: | Start measure | To measure in current section |
| | Stop measure | To stop measuring |
| | Save result | Profiles saving into the file |
| | Protocol | To open the protocol form |
| | Calibrate | To open the calibration form |
| VIDEO INSPECTION | | |
| Lightning | | |
| Buttons: | Load preset | To load preset from the internal controller |
| | Save to preset | To load preset from the internal controller |
| | Channel 1/2/3 | Fine and Rough tunes for lighting (separately for each from three channels) |
| | Connect video | To connect a video camera. |
| | Screenshot | To save a current shot to a database |
| | Capture | To start video capturing |
| | Full screen | Switch to full screen mode |
| | Exposure ROI | To change exposure |
| PROBE CONNECTION | | |
| (Buttons): | Connect | To connect with the probe |
| | Main on | To switch all the sensors on |
| | Exit | To exit from the program |
| PARAMETERS | | |
| (Fields): | Bore # | Bore # Number of the barrel |
| | Bore type | Type of the barrel |
| (Buttons): | Bore type edit | To open "Bore type" library |
| | Section step edite | To open "Section step" form |
| PROBE POSITIONING | | |
| (Fields): | Next section | Indication of next section position |
| | Probe position | Indication of current probe position |
| | Probe angle | Indication of current section angle |
| (Buttons): | Next section | To choose the next section in a manual mode |
| | Previous section | To choose the previous section in a manual mode |
| | Set Zero | To set logical O for OZ axis |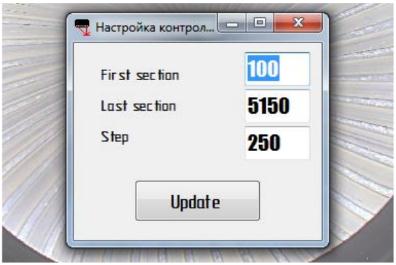 The "Section step" form
| | | |
| --- | --- | --- |
| AREA | FIELDS/BUTTONS | FUNCTION |
| SECTION STEP | | The form for determination of macros in automatic mode |
| Fields: | First section | The first section to measure, mm |
| | Last section | The last section to measure, mm |
| | Step | The step between sections, mm |
| Buttons: | Update | To update the macros |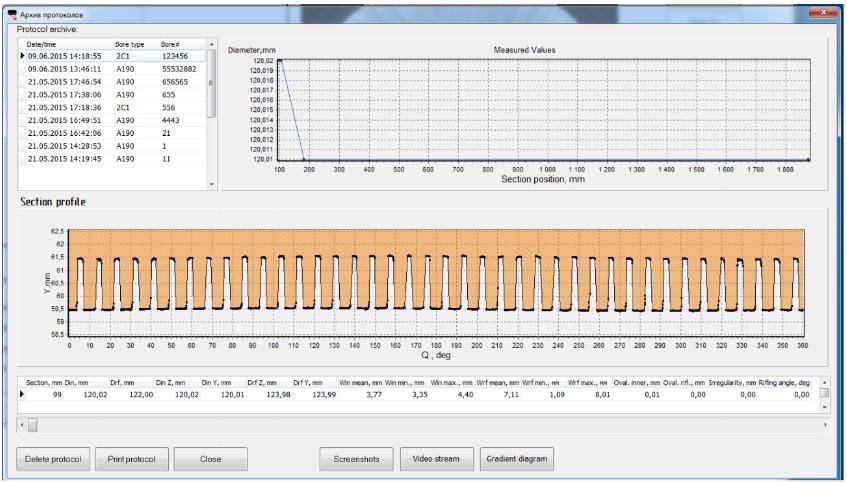 The protocol form
AREA

FIELDS/BUTTONS

FUNCTION

PROTOCOL ARCHIVE

The list of all saved protocols

MEASURED VALUES

A chart showing an inner diameter for all the length of the barrel

SECTION PROFILE

A chart showing a barrel profile in the

selected section (User can switch a circle chart as well)

The table below

Showing all parameters of the barrel in selected section

(Buttons):

Delete protocol

To delete the selected protocol

Print protocol

To print the selected protocol out

Close

To close the form

Screenshot

To show/print out a screenshot for the

selected section

Video stream

To play a video stream

Gradient diagram

To show/print out a gradient diagram for the selected protocol

The protocol form (Zoom mode)
Source: RSI