The Magnetic and Acoustic Measurement Range System provides the capability to assess the threat to any ship from magnetic, electric, acoustic and pressure influence mines. The system incorporates hardware and software tools that assist in minimising influence signatures, reducing the likelihood of triggering sea mines in the operational environment.
This system has been using in UK MoD and Navies worldwide. The measurement range system has many applications, including:
DG coil calibration and magnetic signature minimisation
Research work
System software includes mathematical modelling of electromagnetic influences allowing accurate prediction of the signatures at selectable water depths and all worldwide environmental conditions. This system can be used in either 'Fixed' or 'Transportable' configurations.
The system provides acoustic data processing including range correction capability that provides information about a vessel's acoustic signature. Data is displayed in various standard formats, for frequencies up to 100 kHz.
Software runs under Microsoft's Windows operating system, providing reliable operation, and standardised Man Machine Interface (MMI), for ease of use.
An extremely high accuracy RTK-DGPS tracking system enables accurate modelling to be achieved. The consequence of accurate tracking is that ranging can be completed in minimal time. Typical signature minimisation including checking of the final signature with DG coil current setting is achieved with only four passes over the range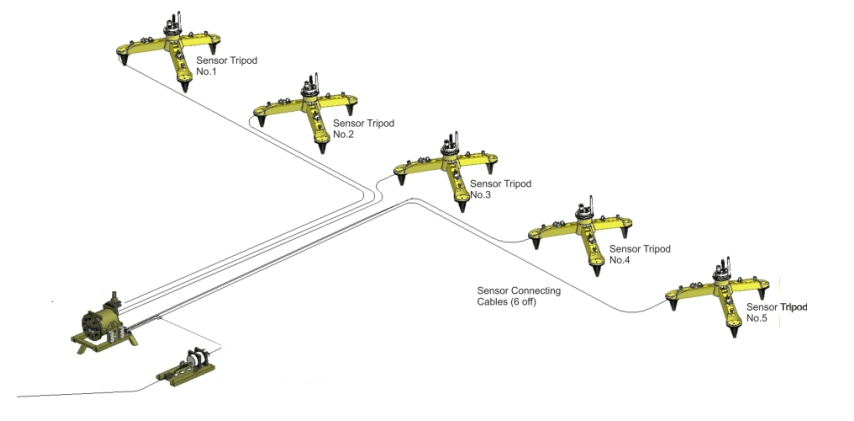 The Magnetic and Acoustic Measurement Range System is of modular construction, supplied as two main sub-systems: shore based equipment and underwater equipment. AFibre Optic / Copper sea cable provides the link for power and data between the sub-systems.
The underwater junction box has 4 sensor connectors that can be connected to 4 sensors. A typical sensor array comprises of at least three multi-Influence sensors to provide high accuracy modelling. The fourth sensor may be used an Earth's Field Reference Sensor (EFR).
This arrangement allows combined Magnetic, Acoustic and Pressure measurements to be made. Data can be gathered from any combination of the sensors and influences fitted. Sensors have proven lifetimes of over 15 years.
Replacement / spare sensors may be used without any physical alignment or system re-calibration. System availability is ensured with a spares provision, minimal preventative maintenance requirements and straightforward corrective maintenance procedures. Built in Test functionality enables 'Range Operators' to quickly confirm individual sensor functional status
Marine growth protection has been addressed. Sensors can be provided with acoustically transparent covers to prevent marine growth affecting sensor performance and cable connectors are covered by removable shields to keep important cable joints clear of marine contamination. Cables and connectors have proven long term underwater life of over 15 years.
The system is designed primarily using Commercial Off-The-Shelf (COTS) equipment for maximum reliability at minimum cost. The design uses industry standard components from recognised sources and to international standards. This design approach enables the system to be adapted, modified and up-graded in a structured manner and also enables many items (e.g. computer system components, displays, printer etc.) to be procured and supported local to customer.
Source: RSI