January 7, 2016. Shimadzu Corporation announces the release of the Xslicer SMX-6000 microfocus X-ray inspection system for non-destructive inspections. This is the first Shimadzu system to include inclined fluoroscopy and CT imaging functionalities in a single package and which is capable of obtaining cross-sectional images immediately after inclined fluoroscopy.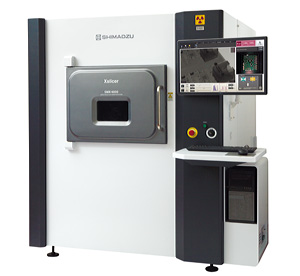 Figure 1. Xslicer SMX-6000
Equipped with a Shimadzu microfocus X-ray generator and high-sensitivity flat panel detector and featuring CT scanning capability.
Smooth and quick switching is now enabled between viewing fluoroscopic and cross-sectional images.
The system includes a new Xslicer CT image processing engine used to fully automate calibration and provide high-speed scanning.
The system can be used to observe distortion-free, high-magnification, and high-resolution images of detailed internal structures.
Easy Operation.
Easy CT Imaging.
Easy-to-See Inspection Results.
Automatic Image Quality Adjustment Function.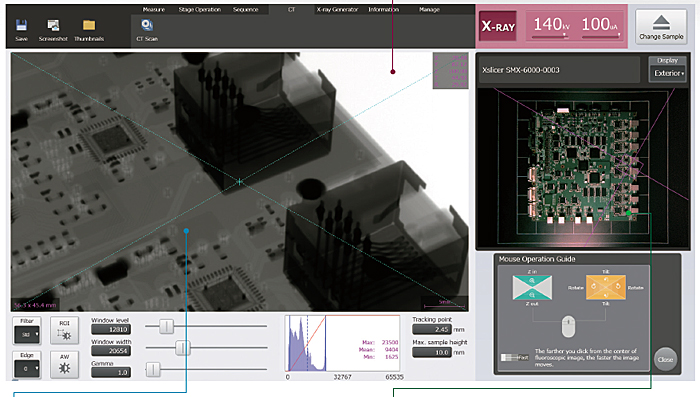 Figure 2. Interface of software
Industries:
The system can used in a wide range of applications such as:
Inspection of Electronic Components: Digital camera, Lens, Connector, Power IC, Cell-phone, Chip inductor, Micro SD card…
Inspection of Automobile Parts: Aluminum die-casting products, Micro turbine, Pressure sensor, Oxygen sensor, …
Inspection of Turbine with oblique imagine.
Motorbike parts,
Health
Other fields
Damaged IC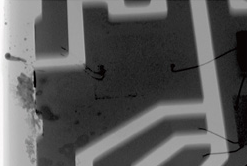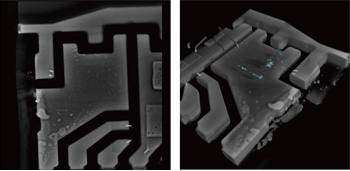 Fluoroscopic Image Cross-Sectional Image Volume rendering Image
Figure 3. Fluoroscopic, Cross-Sectional, Volume rendering Images of Damaged IC
Heat-Damaged Connector

Fluoroscopic Image Volume rendering Image
Figure 4. Fluoroscopic and Volume rendering Images of Heat-Damaged Connector (The position in red circle is NG)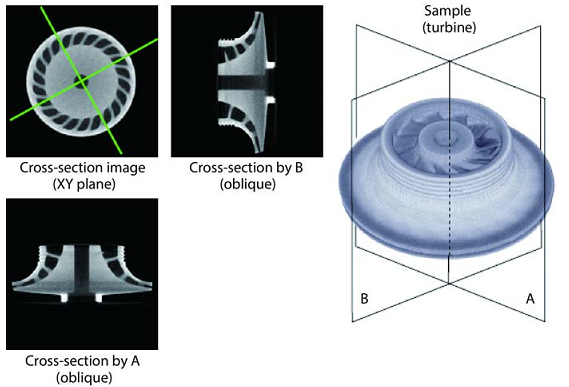 Figure 5. Oblique Images of Turbine
Source: ETA