The MDO-2000E Series oscilloscopes from GW Instek combine several test instruments in one enclosure. The series includes two instrument combinations: MDO-2000EG with built-in true spectrum analyzer and dual channel 25 MHz AWGs; and MDO-2000EX with built-in true spectrum analyzer, AWG, 5,000 count DMM, and 5V/1A power supply.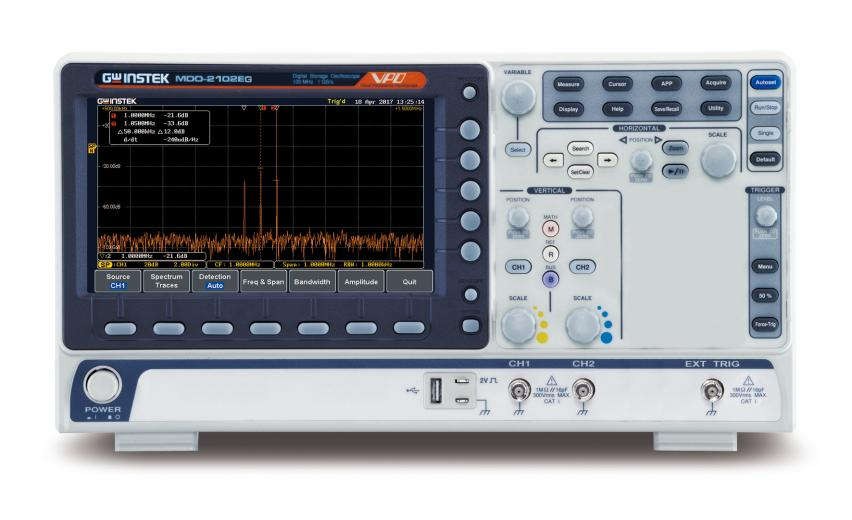 The oscilloscopes enable precision signal measurements in the frequency domain. While observing frequency domain display, waveform characteristics can be observed which are not easily seen from time domain waveforms, such as the harmonic composition of a waveform and the frequency characteristics of a modulation signal.
The spectrum function of the series can test signals that are below 9 kHz. The scopes can also test signals that have a dc component without damaging the instrument. Utilizing advanced digital circuitry and software to render the frequency display, the series offers the same capabilities as real-time spectrum analyzers, but with faster frequency sweeping.
Available in three bandwidths: 70, 100 and 200 MHz and in 2 or 4 channel models, the MDO-2000E oscilloscope series is available now.
Model

MDO-2204E(G/X)

MDO-2202E(G/X)

MDO-2104E(G/X)

MDO-2102E(G/X)

MDO-2074E(G/X

MDO-2072E(G/X)

Bandwidth

200MHz

200MHz

100MHz

100MHz

70MHz

70MHz

Channels

4

2

4

2

4

2

Record Length

10M / ch

10M / ch

10M / ch

10M / ch

10M / ch

10M / ch

Real-time Sampling Rate

Max. 1 GSa/s

Per channel 1 GSa/s

Max. 1 GSa/s

Per channel 1 GSa/s

Max. 1 GSa/s

Per channel 1 GSa/s

Built-in

MDO-2000EG : Spectrum Analyzer ; Dual Channel 25MHz Arbitrary Waveform Generator

MDO-2000EX : Spectrum Analyzer ; Dual Channel 25MHz Arbitrary Waveform Generator ; Power Supply and DMM
Source: RSI