Keysight's 5G network emulation solutions are now ready for 5G NR (New Radio) and will continue to support the new 3GPP NR standards. The first-to-market 5G NR test capabilities were publicly demonstrated at the company's 5G Tech Connect event in San Francisco on December 14, 2017.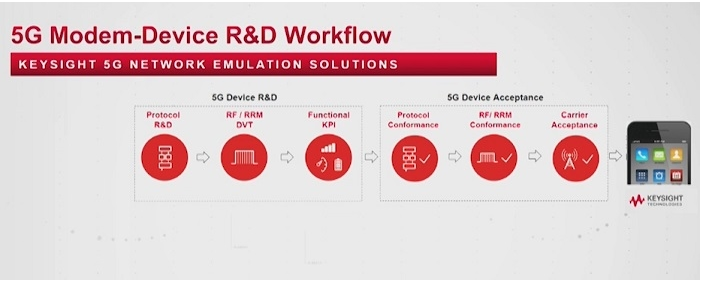 The event brought together key industry players to advance 5G insights. Earlier this year, Keysight was the first to launch network emulation solutions (5G Protocol R&D Toolset and 5G RF DVT Toolset) that enable device and chipset manufacturers to prototype and develop 5GTF chipsets and devices.
Keysight's 5G network emulation solutions enable the device ecosystem to simplify workflows, share insights, and speed time to market. The workflow based solution portfolio uses a common and scalable software platform across a unified 5G development toolset that streamlines 5G modem and device R&D workflow. Keysight Technologies is first to offer its users the ability to address 5G NR challenges and will support advanced channel bandwidth, beamforming, 8CC aggregation and multi-gigabit end-to-end IP data rates.
The early solution availability illustrates the benefits of the company's early collaborations with the market makers. Their end-to-end solutions, with support for sub-6 GHz and mmWave testing, will help the development and deployment of 5G modems and devices to meet the challenge of varying global spectrum and interoperability requirements.
Source: RSI