This is the announcement of release of EDX-LE Plus, a new model of EDX-LE Energy Dispersive X-Ray Fluorescence Spectrometer for RoHS/ELV Screening. This expanded model for RoHS/ELV screening is equipped with EDX-Navi, the simple analysis software popular with the EDX-LE series. In addition, it provides high counting rate and high resolution, and also supports general analyses.
I. Release Date
1) October 10, 2017 (BCEIA2017, China only)
2) Delivery start date: End of November, 2017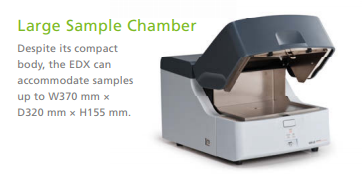 II) Features
1) High Sensitivity and High Accuracy
This model is equipped with an SDD detector, so it can measure the 5 elements restricted by
RoHS directive faster than the EDX-LE.
2) Equipped with the Easy to Operate Software Optimal for Screening, Suitable Even for First-Time
User, compatible with Windows 10 (32-bit or 64-bit)
This model is equipped with easy to operate software (PCEDX-Navi), which is optimal for
screening for hazardous elements specified by the RoHS/ELV directives. The number of mouse
clicks required has been substantially reduced in comparison to conventional software. In
addition, parts that to date have been left to the discretion of the user are now automated, making
this software user friendly from the perspective of the operator
3) Large Sample Chamber
A large sample chamber (W370x320xH155 mm) has been adopted, which can accommodate
a variety of sample forms and sizes: solids, liquids or powders.
Source: ETA