The LCR meter provides a simple and accurate way to measure impedance at a specific frequency point. However, for components that are more than pure L, C or R, this is often inadequate to fully estimate the performance. In these cases, impedance analyzers are used to measure and plot the complex impedance of the device under test over a range of frequencies. Unfortunately, the typical impedance analyzer costs more than $20,000 which is significantly higher than an LCR meter.
TEGAM addressed this problem by designing an application (Figure 1) which sweeps through user configurable frequency points on the Model 3550 LCR meter. The output is plotted and the measured values are also stored in an Excel file which can be used for further analysis.
Required Equipment
A TEGAM 3550, a desktop PC or a laptop with a GPIB port and a GPIB cable (P/N 1583-3) are required to run this application. The application can be downloaded directly from our website: www.tegam.com.
Instructions for Use
Hardware Set-up
Make sure that the 3550 is connected to the PC via GPIB or RS-232.
Turn on the instrument by pressing the 'Power' switch.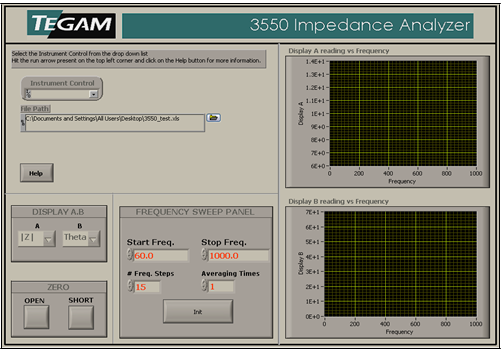 Figure 1 - Screenshot of software
Software Set-up
Open the CD that came with the 3550.
Open the '3550 Impedance Analyzer' folder on the CD or download the application .exe from the TEGAM website (www.tegam.com).
NI LabVIEW 8.5 runtime and VISA runtime should be installed to run this application without LabVIEW. They can be installed from the setup files present in the '3550 Impedance Analyzer' folder or can be downloaded and installed from the NI website (www.ni.com).
Run the .exe named 'TEGAM3550 – Impedance Analyzer' by double clicking. Select the required instrument control from the 'Instrument Control' box and run the vi by clicking on the arrow present in the left top corner.
Please click on the 'Help' button for more information.
Technical Specifications (TEGAM – Model: 3550)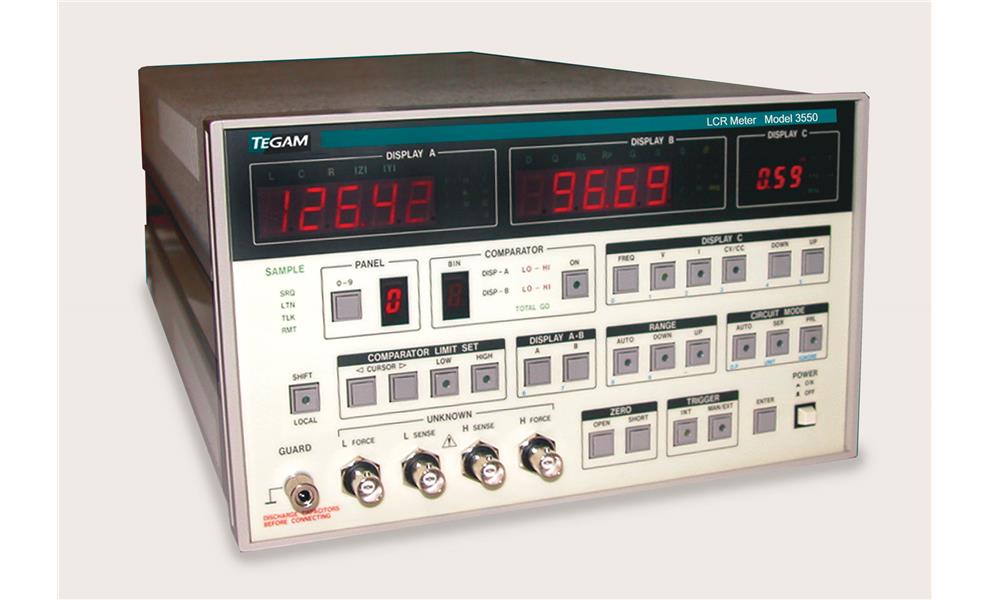 Basic Accuracy: 0.1%
Measurement Speed: 18 ms
Test Frequencies: 42 Hz to 5 MHz
18 measurable parameters
Absolute or percentage comparator
Standard RS-232C & I/O interfaces
Optional GPIB or BCD interfaces
Source: TMC